N E W S A R C H I V E S

| | |
| --- | --- |
| Bad Timing Pocket PC theme | January 26, 2006 |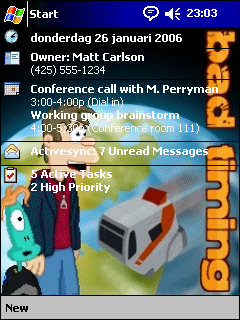 Do you own one of those fancy pantsy pocket PC's running on Windows Mobile? You do? So do I! Great! Now you can replace that boring standard Windows look with a brand new Bad Timing theme!

Just download it here, and copy it into the Windows folder on your Pocket PC. Then go to Start, Settings, and click the "Today" icon on the "Personal" tab. Select the "Badtiming" theme and click OK. That's all!

In case you're wondering: No, I didn't spend a lot of precious time on this awesome theme. Yes, I have made LOTS of progress on the actual game.