W E L C O M E
Hey there, and welcome to Empty House Entertainment!

N E W S

| | |
| --- | --- |
| Flash animation | October 15, 2009 |
Been working a lot on Bad Timing lately! I just wanted to share the new walk cycle of our main character with you. It's here. I hope you like it.
| | |
| --- | --- |
| Bad Timing continues! | September 14, 2009 |
Today I started working on Bad Timing again since... I can't even remember how long ago. Feels good. Granted, I didn't spend a whole lot of time on it, but it's a start.
| | |
| --- | --- |
| Bad Timing loves Apple! | May 9, 2009 |
Bad Timing now runs natively on Mac OS X! Thanks to Trumgottist, who is currently working on a Mac port of the SLUDGE engine I'm using to build the game.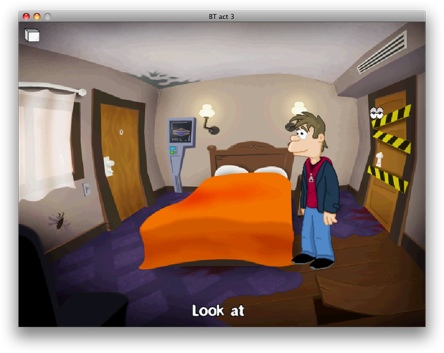 | | |
| --- | --- |
| We're getting oooold. | April 17, 2009 |
Wow. It still works! Barely, but still. A CD-Recordable in my drive is making scary noises. My computer is having a hard time reading the contents. After a few minutes the progress indicator jumps to one-hundred percent. Copy completed. YESSS!!!

I found 2 CD-R's that I burned 10 years ago. They contain back-ups of various attempts to develop and publish my own game. First under the banner of "Broekhuis Arts", and since 1999 as "Empty House Entertainment".

Back in those days I had exactly zero percent programming knowledge. Most of my time was spent on experimenting. That already started in 1992, when I got my hands on a copy of Autodesk Animator. As time went by I used tools like Klik & Play, The Games Factory, and MultiMedia Fusion. My first programming experience started with simple batch scripts in DOS. I experimented with adventure engines, starting with AGAST, BOT, and ending up with SLUDGE. I got into Photoshop relatively late as I was too comfortable using PaintShop Pro, which I had been using since version 3.

It's no wonder I never released a completed game during all these years. I was jumping from one experiment to another, never satisfied with what I could do with the knowledge I had already acquired.

10 years of memories all on those 2 discs. I'm going to have a great weekend of reviving them!
| | |
| --- | --- |
| Here we are again. | December 31, 2008 |
2008 was the year in which I switched to Apple, finally saying good-bye to Microsoft and its unpolished Vista operating system. It took a while to get adjusted, but I can say for 100% that I didn't regret it.

2008 was also the year of a nice assignment at work: Supporting a world-wide SAP implementation. Sometimes demanding, but always very interesting. 2008 might not have been the best year for Bad Timing and Empty House Entertainment in general, but do not worry: I have not abandoned you. I recently started working on some artwork again.

So, what about 2009? Well, let me just ignore the negative buzz about recessions and credit crunches and say that I'll try to update this site more often with news about our upcoming game.

See you in 2009!
| | |
| --- | --- |
| Bye bye, 2007! | December 31, 2007 |
Looking back at 2007 I must shamefully admit it hasn't been the greatest year for Empty House Entertainment and my game, Bad Timing. Although the year started off quite well -- I've worked a lot on Bad Timing in January -- I was soon confronted with the time-consuming duties of my life. My (professional) job being a notorious offender.

I do not despair, though. I've promised myself to finish this game no matter what, and no matter how long it will take. And I can assure you, it's a promise I intend to keep!

Yeah, 2008 will be a great opportunity to reach this goal. Happy Holidays, everyone!
| | |
| --- | --- |
| We're heading to December again... | November 15, 2007 |
I'm not gonna lie to you. I hate December. And January. And February. I'm just not a fan of the cold weather. This morning I had to get the ice off of my windshield. Took me 15 minutes in the blistering cold.

Anyway, the good news is that people start downloading the only game ever released by Empty House Entertainment again. You know where to get it, right?

Merry C... Oh, somebody please shoot me!
| | |
| --- | --- |
| My first 2007 news post! | March 10, 2007 |
I thought it was about time I'd posted something in 2007. It's March already, goddammit! We've got THREE Christmas news postings on the front page!

Well, I'd better lock myself up again and do something productive. Like working on Bad Timing, which is not, I repeat NOT, vaporware. At least, not yet.
| | |
| --- | --- |
| Christmas Quest 2 | December 25, 2006 |
Adventure Gamers have just released Christmas Quest 2, the sequel to last year's, uh... Christmas Quest. Yeah. It's a really funny game, albeit a bit rushed in the programming department. Oh, and yours truly created some assets for this seasonal game as well! The clock- and pipe puzzles (see below) were both drawn by me, and I also created all of the inventory and menu icons. Reason enough to download, I'd say. ;)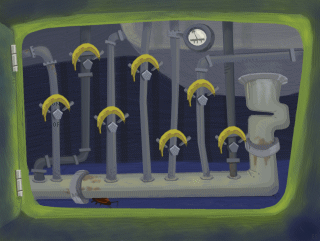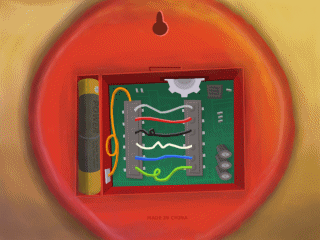 Happy Holidays, everyone!
| | |
| --- | --- |
| Online photo album | October 28, 2006 |
Instead of working on Bad Timing, I decided to upload some pictures, taken during our vacation in California (and beyond). I've recently downloaded a beta version of Adobe Lightroom, which I used to manipulate the photo's with. Lightroom also created the web pages automatically. Very cool piece o' software!
| | |
| --- | --- |
| Back from California! | October 10, 2006 |
Oh yeah, I forgot to mention my 3 and a half week vacation (the half week was kind of a surprise for me too) to California. Anyway, I'm back. Work on Bad Timing resumes. That is all.

Okay, except for this picture, which was taken at Yosemite: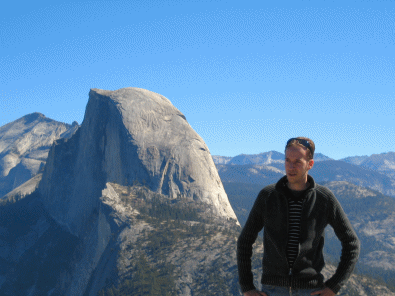 Look! It's me in front of the half-dome!
| | |
| --- | --- |
| Bad Timing Pocket PC theme | January 26, 2006 |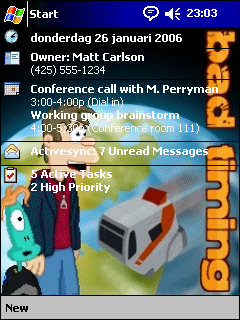 Do you own one of those fancy pantsy pocket PC's running on Windows Mobile? You do? So do I! Great! Now you can replace that boring standard Windows look with a brand new Bad Timing theme!

Just download it here, and copy it into the Windows folder on your Pocket PC. Then go to Start, Settings, and click the "Today" icon on the "Personal" tab. Select the "Badtiming" theme and click OK. That's all!

In case you're wondering: No, I didn't spend a lot of precious time on this awesome theme. Yes, I have made LOTS of progress on the actual game.
| | |
| --- | --- |
| Happy Holidays! | December 24, 2005 |
| | |
| --- | --- |
| Oh my, it's that day again! | December 3, 2005 |
Today, 25 years ago, I was born. Time flies like the wind. And fruit flies like bananas.