G A M E S
Uh... Not much here yet. That's because we're still working on our forthcoming classic point and click adventure game, Bad Timing!




Empty House Entertainment is very proud to present our forthcoming point-and-click adventure game: Bad Timing!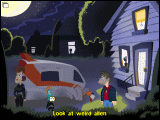 Point-and-what?

There hasn't been many of those around lately, but I can't believe you've never heard about games like Monkey Island or Day of the Tentacle. Those are the games I grew up with and they all keep a special place in my heart... Awww, isn't that nice?

Aaaaanyway, Bad Timing is one of those games that tries to capture the style of Day of the Tentacle and Sam and Max. Maybe you've already noticed that by looking at the screenshots.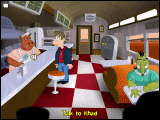 Bad Timing will feature spoken dialogue and, because of it's huge size, will only be available on CD-ROM. Now, we're not Santa Claus so we can't hand out free CD-ROMs. So this version will be available in (our) store, for a very affordable price (around $10 to $15). This includes shipping and handling!

Bad Timing is currently still in production. We hope to release it somewhere in 2005.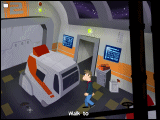 Okay, so what's this game about you ask? Learn more about it on our Bad Timing website, which also features screenshots to drool over.

Go on; Take me to the Bad Timing website, right now!!!
//Menu require("menu.php"); ?>